Welcome to the Fran Bow Wiki!
What is this wiki about?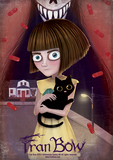 This wiki is about Fran Bow, a point and click adventure with a touch of horror by Killmonday Games. You play as Fran Bow, a ten year old girl with extraordinary curiosity but also a troubled mind and a story to tell! The game is currently available on Steam , Gamejolt, Itch.io, IndieDB and GOG.
The wiki was created in August 9, 2014 and is currently having
106 articles, 532 files and 4,891 edits! Wow!
Did You Know?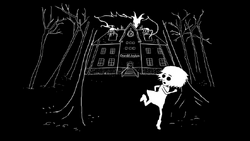 If you mess around with the Asylum's TV in nightmare mode, you can see Fran's silhouette with bloody eyes flashing on and off on the screen in the static.
Want to help?

               Click [ ] to show and hide content.
Fran Bow Wiki Network
Fran Bow Wiki
An encyclopedia all about Fran Bow.
Fran Bow Вики
The Russian language version of "Fran Bow Wiki".
User Blogs
Hello Fran Bow community!

I am ThunderGemios10, Founder of the Fran Bow wiki and it seems that Killmonday's working on a new game!

Once the game's title and gameplay will be revealed. I am launching a wiki for it!




Look forward to it! :)

~TG10

Read more >

I'm just here to say that if you have any suggestions, drop by my message wall and message me. Thanks!

MathAddict (Talk to me!) 02:41, December 13, 2015 (UTC)

Read more >

Hey guys!




Just making a short notice that please acquire HD images of characters.

Read more >
Random Image
For more images of the
Fran Bow Wiki
, click here.
Polls
Do you think Fran Bow should get a sequel?
Who is your favorite Fran Bow Character?
The Administrators!
Just leave a message on one of us and we will do our best to reply!
Chat
0
Fran Bow Wiki
Join the Chat>
Twitter
Facebook